On June 15th, 1993, the Portable Document Format (or PDF) was born. PDF was created by Adobe® to be a standard document format which would allow for the exchange of documents across different systems (i.e., Windows, Mac, Linux, etc). The PDF file format allowed for any end-user to read/view a document, regardless of their system and irrespective of the native application that created it.
26 years later, PDF is the most widely used file format on the internet, making up roughly 72% of all electronic documents on the web in 2018. PDF documents have come a long way since this initial marketing campaign from Adobe launched in 1993:
PDF's popularity grew so much from its initial inception that in 2008, the International Organization for Standardization (ISO) took over the format and made it an open standard. Prior to this, PDF was a proprietary file format controlled by Adobe which meant that only Adobe's PDF software tool, Adobe Acrobat, could be used to edit or manipulate PDF files. By releasing PDF as an open standard then, the ISO opened the door for a revolution in PDF software tools – which is exactly what happened next.
Today, there exist numerous PDF software tools from several different software companies. While many options exist in the market, one thing is for certain – your organization needs to have access to an advanced PDF software tool.
Here are just a few of the benefits that come from using these advanced tools.
Convert Documents To and From PDF
One of the basic functionalities of a PDF software tool (as opposed to a PDF reader) is the ability to convert documents from one format to PDF and vice versa. For example, you may have a Word, Excel, or PowerPoint document which you want to convert to PDF for web publishing, or to share with an external party. Conversely, you may have a PDF document which you want to convert to one of the aforementioned formats.
Microsoft applications may allow you to convert a Word or PowerPoint document to PDF, but the ability to convert from PDF to another format requires more advanced software. For example, the most advanced PDF software tools will allow you to convert a scanned table into a workable Excel file at the click of a button (see Image 1).
Manipulate PDF Files
Manipulating PDF documents is often easier said than done; most users know that without a PDF software tool you're unable to edit text, font, images, or colours within a PDF document, but even something as simple as adding or removing a page from a PDF document can be difficult when you rely on freeware.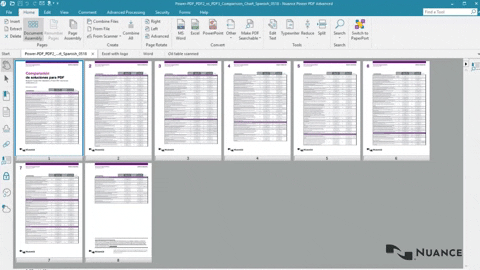 Advanced PDF software tools allow you the ability to seamlessly manipulate text, images, layout, etc., all within a single program and with a user-friendly interface (see Image 2). They also enable you to add, remove, or combine multiple pages from multiple documents (and some even allow for the combination of multiple file formats; i.e., Word, Excel, PowerPoint, etc.) into a single PDF document. Using an advanced PDF software tool, PDF documents become as easy to edit as text documents – often even more so!
Security and Confidentiality
The PDF file format was designed to allow for sharing of documents across varying, and multiple systems. However, as a single document passes from system to system, there's an increasing risk that it will be edited or compromised by others. Using a PDF software tool, you can lock your document and prevent it from being edited; you can sign the document with a digital signature (e.g. DocuSign) to ensure recipients know the document is legitimate; and you can even run a scan, and then clean the document of any hidden data that may be attached to it.
Another key feature of PDF software tools is having the ability to "redact" document certain portions from documents. Using physical paper, redaction is the process by which sensitive or confidential information is highlighted with a black marker to make it unreadable by others. A PDF software tool can accomplish the same thing, all while keeping the document digital.
Our Tool of Choice: Power PDF
Konica Minolta's offices require all the functionality outlined in this blog, and more. That's why our knowledge workers rely on the use of Kofax eCopy Power PDF (ePPO). This software allows our employees to view, edit, and manipulate PDF documents without having to convert these documents to other formats first. Further, and unlike similar PDF software tools, Power PDF allows multiple users to view and edit documents in real-time together; this feature encourages and makes easy collaboration on PDF documents.
Here's a helpful video which outlines some of the most exciting features of the Power PDF software:
Charles Darwin was once quoted as saying: "It is not the strongest of the species that survives, nor the most intelligent, but the one most responsive to change." If your organization relies on freeware, or has simply never considered an alternative to Acrobat, now is as great a time as ever to consider the options that have emerged over the last decade. Contact Konica Minolta today to learn how Power PDF can help improve your organization's productivity; streamline your document management; and ultimately, increase your bottom line.
September 03, 2019
Content Management, Digital Transformation, Workflow and Automation, Workplace of the Future